ED Pills
BlueChew – The Future of Healthcare and High Quality ED Medicine
If you suffer from ED and hate visiting doctors and paying for expensive pills, BlueChew has exactly what you need. These blue chewable tablets work twice as fast as pills, last longer and are far less expensive. But best of all, they can be obtained discreetly over the Internet with prescription and all!
Get Access to Sildenafil and Tadalafil in Discreet Blue Chewable Tablets Without Visiting Your Doctor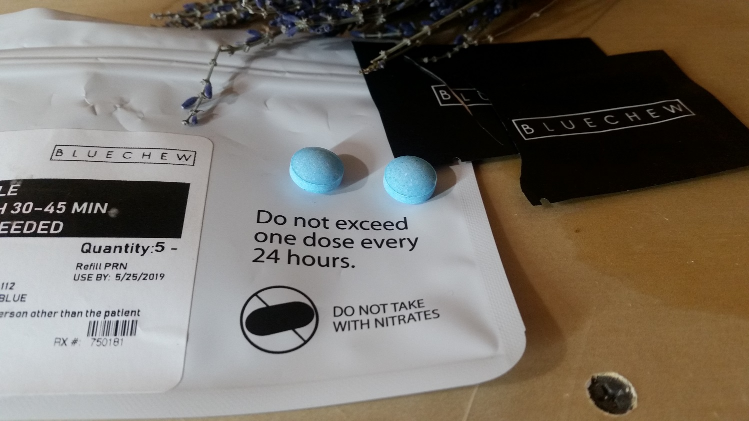 On their website, we can see that BlueChew.com claims to "help men get access to convenient, affordable, chewable tablets for more confidence in bed." There's little doubt that Blue Chew is significantly different from other erectile dysfunction products out there, primarily because it's a healthcare treatment that comes to you, instead of the other way around. Men eager to treat their ED without having to visit a doctor, take pills, make appointments, sit in waiting rooms and discuss their personal problems face-to-face with complete strangers will find this product particularly attractive. There's no doubt about it, Blue Chew is here to change the healthcare industry for the better.
BlueChew offers their clients a monthly subscription of Sildenafil (the active ingredient in Viagra) or Tadalafil (the active ingredient in Cialis). Sign up and choose which of these two products you want to apply for. Next, you will be taken through a thorough consultation where you will have to provide detailed information about your treatment history. At the current time, Blue Chew tablets are available in 10 different states: CA, FL, IL, GA, NJ, NY, NC, MI, VA, and OH. However, as the laws vary from state to state, Blue Chew is working toward being fully licensed in all 50 American states.
The doctors at Blue Chew will offer a customize treatment depending on your individual needs. Even after you sign up, you can't simply go to their website and click on Buy Now. BlueChew's licensed physicians will study your case and make sure you receive the treatment you require. The company is set out to create a product that focuses on helping people get access to efficient and affordable chewable tablets from the comfort of their own homes. This is the future of healthcare.