Elite Singles
Interested in seeing what the online dating world has in store for you? Are you looking for professional, high-quality singles? If yes, you'll want to read our Elite Singles review, which will be coming up shortly. A claim made by the dating app is that it is home to some of the brightest, most accomplished men and women on the singles market. But is Elite Singles a legitimate service?
Take at look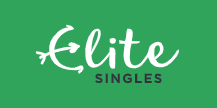 Score

Bonus
Meet smart, single men and women in your city!
Honestly, when we first heard the term "Elite Singles," we assumed it was a private meeting of snobby individuals who were "too fine and too elite for the rest of society." However, we were wrong. Thankfully, our parents instilled in us the importance of never judging a book by its cover since we couldn't have been more mistaken.
What is Elite Singles?
When it comes to a serious relationship, income, work ethic, and professional schedules may make or break it. Finding a cute individual who shares your interests is one thing, but finding someone with whom you can open a joint bank account is another.
Since its start in 2013, Elite Singles has built a solid reputation as a dating service that caters to the most sophisticated singles in the market. People who seek to find a romantic companion on the same level as themselves make up its target demographic. Elite Singles maintain a community of young professionals looking for love. 80% of its members have a bachelor's, master's, or doctorate, and 90% are above thirty.
The Experience
Elite Singles Sign-up Process
When compared to other popular dating sites, Elite Singles' sign-up process is a bit longer. As a result of having a longer sign-up process, you'll get better outcomes. At the time of registration, users at Elite Singles are asked to complete a lengthy personality test. As a result, a large number of people refrain from creating fraudulent accounts on the site.
So, here's how it works:
First-time users will be required to submit basic information such as their location, age, and gender while registering.
You must complete the personality test created by expert psychologists and measure 29 personality traits in a survey format.
You'll receive results, and you'll be able to begin matching with other individuals after you log in.
It should only take you approximately twenty minutes to complete the process. During the questionnaire, you can pause it and continue it at a later time if needed.
The questions are presented in the form of statements that you must rank as either applicable, slightly applicable, or non-applicable to you. These questions involve characteristics such as:
How you deal with conflicts and disagreements
How you would describe yourself
What kind of entertainment do you enjoy
Your strengths and weaknesses
Your likes and dislikes
User profiles that are compatible with each other's answers and ideas are displayed once the questionnaire has been completed. Your member profile includes information about your personality, which is visible to other members.
Elite Singles' Features
With Elite Singles, you can join as a Basic member. Upon upgrading to a Premium membership, though, you'll discover that the site has features that expedite the matching process.
Even though none of these features are unique, they do work. Having a premium account increases your chances of having a successful dating experience on the internet.
Match Recommendations – Every day, Elite Singles releases new match recommendations for its customers based on the data acquired from the personality analysis tool. Your interests, geographic area, and questionnaire will be used to generate a list of potential matches. There is no need to go through hundreds of profiles because Elite Singles does everything for you!
Advanced Search – Using the Advanced Search tool, users can filter match suggestions depending on specific attributes. The criteria include age, location, physical qualities, preference for having children, academic history, income bracket, drinking habits, and more.
Have You Met? – A site-generated list of profiles that visitors may have overlooked when viewing their match recommendations is called "Have You Met?" As a result of this list feature, users will be notified of potentially compatible matches they may not have spotted before.
Wildcard Matches – If you're a premium Elite Singles member, you'll have access to this feature. In addition, Wildcard Matches allows these users to receive an additional twenty matches a day, allowing them to meet someone they may not have thought about or considered dating in the past.
Favorites List – On Elite Singles, if you come across a profile that makes an excellent first impression, simply click the star icon to save it. Simply click the star icon again to remove that profile like your favorite.
Elite Singles Magazine – Along with online dating, Elite Singles offers a blog-based online magazine that provides expert advice on relationships and online dating.
Elite Singles Pricing
Currently, Elite Singles provides two membership levels: Basic and Premium membership. There are no strings tied to the Basic membership, a free opportunity to test out Elite Singles. Before committing to a full subscription, it's a beautiful chance to test out Elite Singles with minimum features. As long as you do not cancel your account or subscribe to a premium membership, your basic membership will stay in effect. Most major credit cards and PayPal can be used to pay for Elite Singles' subscriptions.
Included in Elite Singles' Basic Membership are:
Personality questionnaire and analysis access
Results of personality test
Upload photos on profile
Viewing of daily partner suggestions
Receive other individual's messages
In addition to the benefits stated above, Elite Singles Premium Membership includes:
Unlimited chatting and messaging with other users
Viewing all profile pictures
Mobile Application usage
"Have You Met?" list
Read message confirmation
Premium level memberships are available at a discounted rate, with longer subscriptions costing less per month:
Three months Premium Light – $24.95 per month
Six months Premium Classic – $14.95 per month (discounted)
Twelve months Premium Comfort – $12.95 per month
Even though the membership rates at Elite Singles are quoted per month, you must pay them all at once for the entire membership duration. However, online dating applications allow you to pay in monthly payments and cancel at any time, so this may not be a deal-breaker for everyone. Large amounts might put a strain on your budget.
In addition, unless you remember to cancel your membership before it expires, memberships automatically renew at the end of the chosen membership period. A year's subscription (if you've picked 12 months subscription) to Elite Singles will be charged to your chosen payment method if you don't cancel within the specified period.
Free Features
Easy website navigation
Free Basic membership with no expiry
Matchmaking services expedite dating processes
A mobile app for android and iOS is available
Free personality quiz with an assessment of results
Paid Features
No installments for payments, upfront charges
Automatic renewal of subscriptions
Upgrading is required to send messages
Image Gallery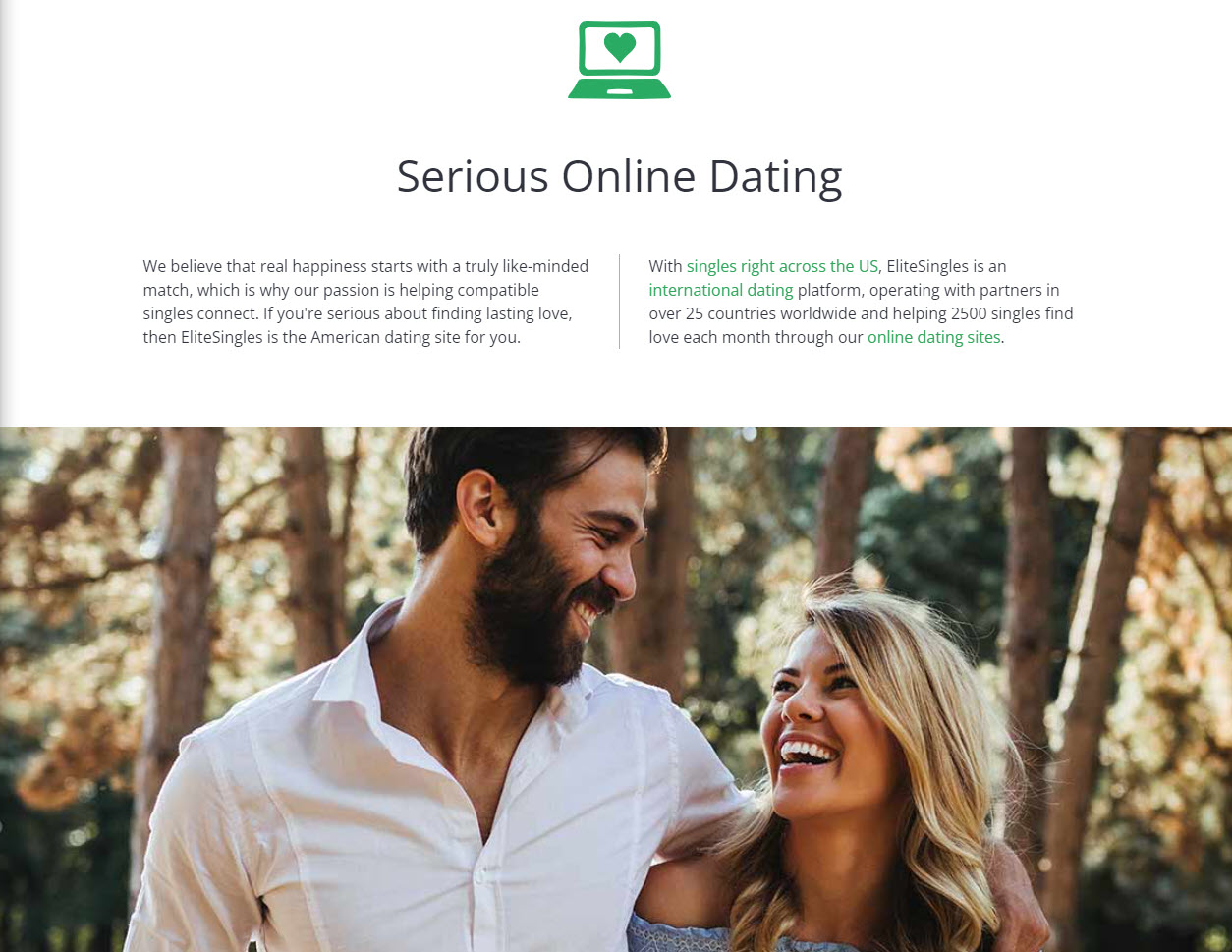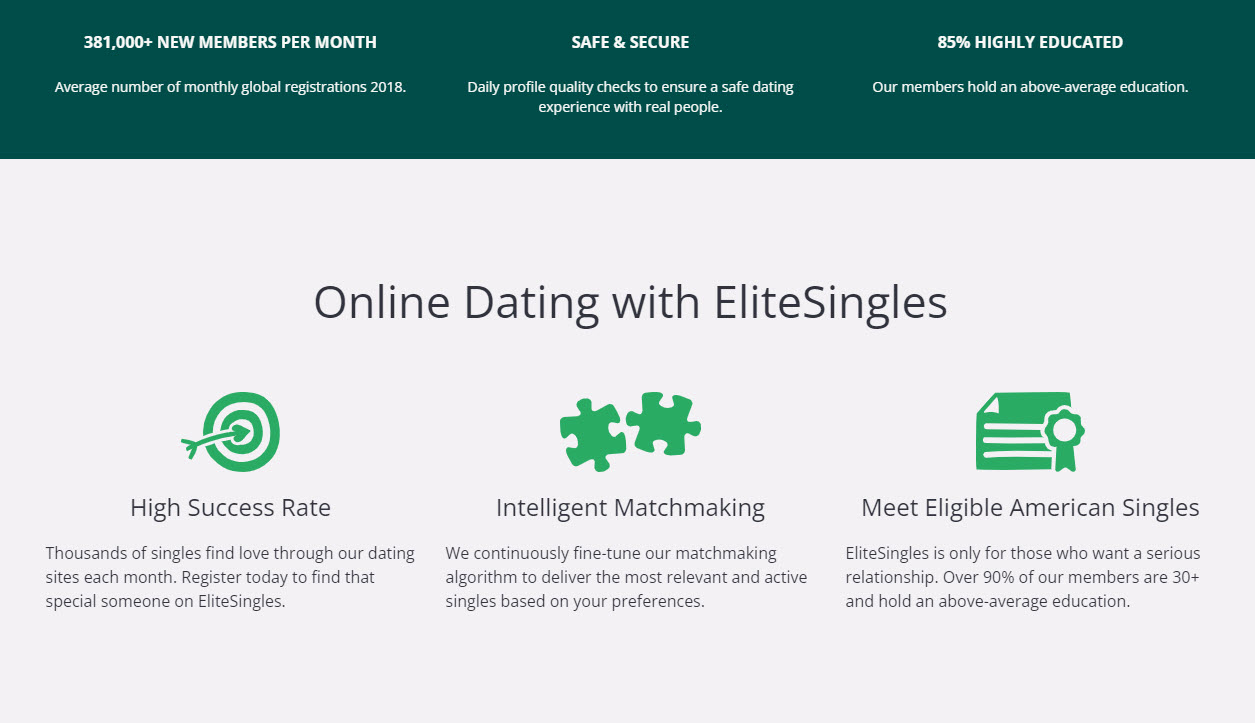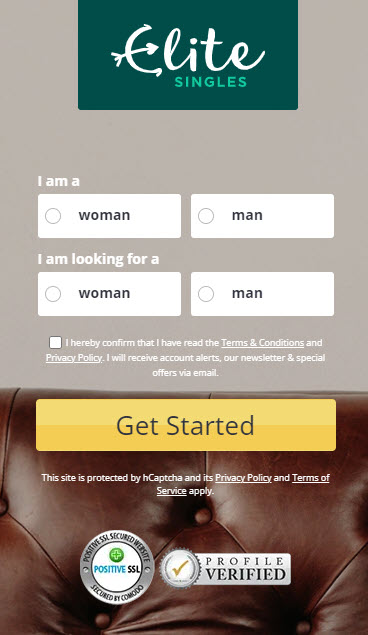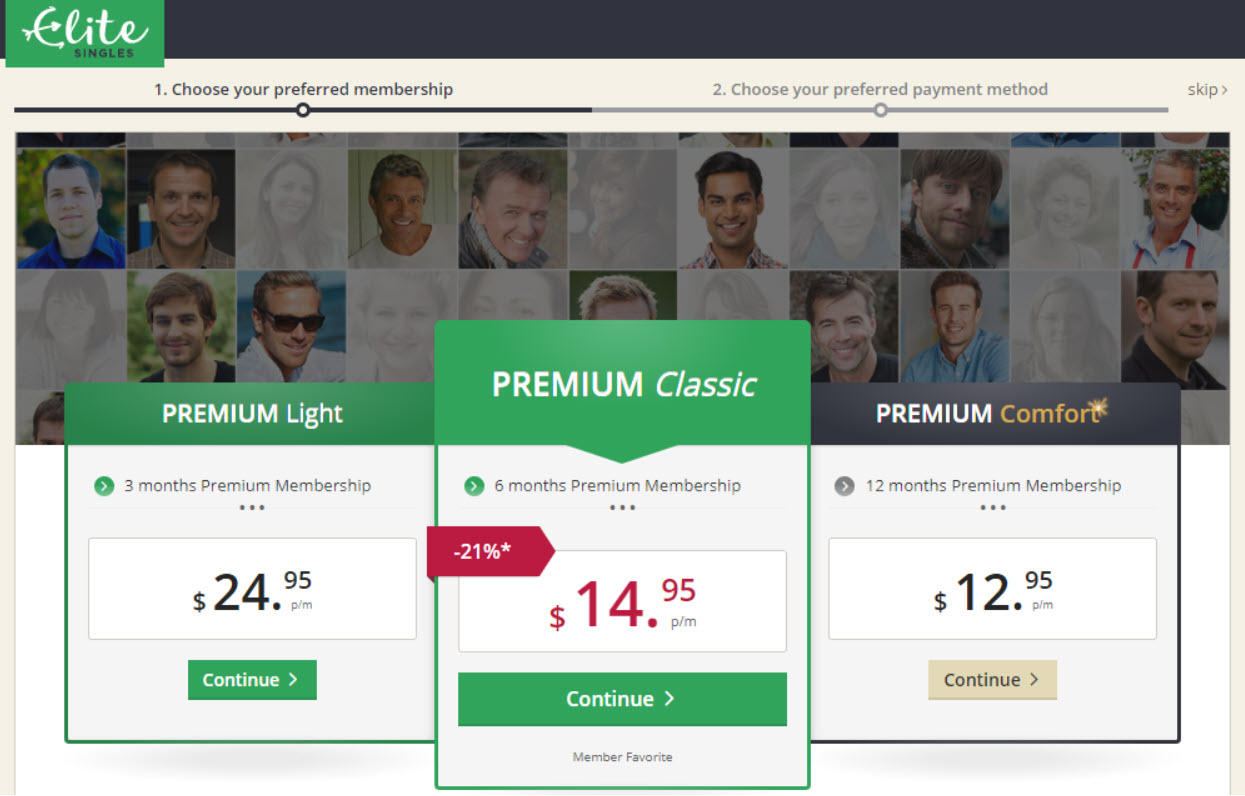 The Conclusion

Whether you've put romance on wait to focus on your job, or you're looking for a life partner who's at the same point in their life as you, Elite Singles can help you find someone who understands you. There is something special about how it focuses on accomplished professionals who haven't had much luck in the romantic scene.
Signing up for a premium membership with Elite Singles could be just what you need if you want to improve your dating game. In your hunt for love, this dating site will be there to help you along the way.
With Elite Singles, educated professionals may find love without sacrificing romanticism or going on the most boring date of their lives.